Training and Social Running Sessions
We hold several training sessions during the course of the week. We have three levels (or groups) to cater for runners with differing levels of speed and ability from beginner to fast or long distance. If you are new to running or an experienced runner you would be very welcome to join us at one of our sessions and see how you go before joining.
For more info feel free to get in touch here:- Contact All regular Club training sessions start from the Canal Basin Car Park, (Tom Brad's Croft) Whaley Bridge unless stated.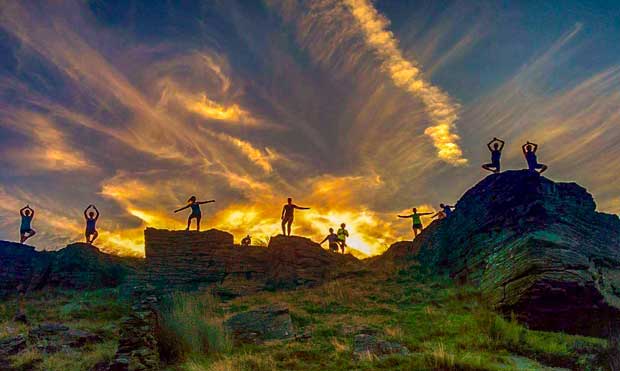 This weeks totals from our members using the GVS Strava club (Any member can join this and it syncs normally from your watch or phone app)

Regular Sessions
These sessions are held every week all year round and start in Whaley Bridge, in the Tom Brad's Croft car Park. NOTE: No Current restrictions on group size but Covid has not gone away so things may change
Tuesday (7:00pm) Members and potential new members welcome
Runners from all the groups are out on this session. We welcome newcomers on Tuesdays as this is the best session to introduce yourself also each of the groups will be out running. Runs can last anything from 45 minutes to 1hr 40 minutes ...ish. This depends which group you are in. We meet in the Car Park (Tom Brad's Croft in Whaley Bridge. SK23 7SR) NB: See section below re-away runs. If the evening is in daylight we will certainly run off road, during the darker nights that may be more of a mix of hard trail or road.
Afterwards we sometimes head for a social drink in the Goyt Inn.
Saturday (8:00)
8am mainly intermediate runners. Again lasting from 60 mins to approximately 1hr 45mins .....ish. Faster Runners are recommended to join us initially on the Tuesday sessions.
Again these sessions start at the car park in Tom Brad's Croft, Whaley Bridge. Sometimes members follow on with a coffee or breakfast at a local café.

Frequent, Occasional and Seasonal Training Sessions
Thursday Winter Training Sessions (Autumn & Winter/Spring) Members only please. Previously organised by Mark W these are run during the Autumn or Winter/Spring and are special hill and speed training sessions. Usually involves repeats up and down hills or circuits round a route. Normally held on a Thursday at the normal start time of 7pm. Starting in Whaley, Chapel, New Mills and Disley. See our Cluster board, link at the bottom of the page. Or check our (closed) members facebook group for more details.

Details of these sessions (2021 - 2022) Schedule Training.
Weekend longer runs (usually morning - advertised on social media)

Times and frequency Can vary.
This is a long weekend morning run lasting anything from 1½hrs to all day. Running at a slow pace, it's a great way of building your stamina. Open to all abilities. Distance can be anything from 8-10 miles or much longer!, good for half, full marathon or even ultra training. Depending on the weather and duration on these runs we recommend carrying basic FRA kit as the routes may be more remote and mostly off road. Also bring plenty to drink and eat along the way if its all day.
Summer Away Runs: During the lighter months from Spring to Autumn we do monthly away runs. These start at a pub or car park away from Whaley Bridge. Not too far away and still easy to get to. Afterwards we usually meet up and have a little get-together. Details of when and where these take place and possible car sharing options are posted on the message board. The current list of away runs is found on this page:- Away Run
Sunday Night Runners. Occasionally one or two of our members organise these on Sunday evenings after dark, locations and times can vary. This usually involves hilly off road running in the dark. It is recommended that you bring FRA kit with you on these sessions. Check the facebook or cluster group for more details as they are not every week.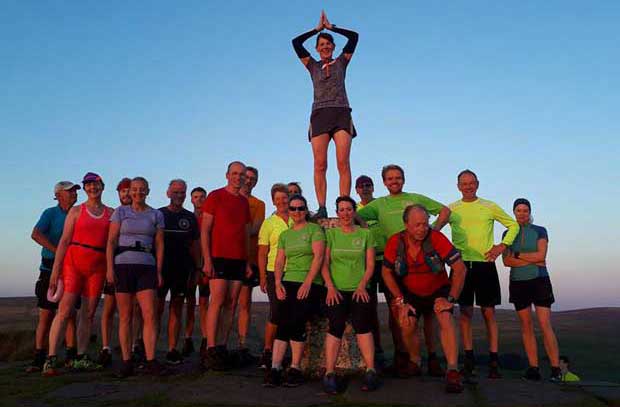 ---
NOTE:-
Any reference to the Facebook closed group and Cluster group Details are Here.
Facebook: the closed group is a members only group and to join you have to apply and be approved by an admin member. So please be patient there may be a small delay especially if you have only just joined.
Facebook Group:- HERE
The Cluster group is a group for people who don't like to use facebook and is not owned by facebook. Again membership of the group has to be approved by an admin.
Cluster Group:- HERE
Local weather forecast for Whaley Bridge can be found below. However we do tend to go out in all weathers so......no excuses!