Eccles Pike Fell Race
Next Race: Wednesday 14th August 2024
The Eccles Pike Fell Race, one of the oldest fell races in the country has a history going back well over 100 years. It is renowned for being short, tough and demanding. If you wish to learn more about its origins we have compiled a short history of the race which can be found by clicking:- HISTORY
Race Details: Start time 7.30pm Eccles Pike Fell Race is rated by the FRA as Category:- AS. with a distance of 3.4m and climb of 1001'
This year we will be using the Bugsworth War Memorial Club.
This is just round the corner from the canal basin and the old venue and is much nearer the start of the race. Please note: If you park at the Navigation Inn as you may get charged a fee.
Profits from the race in 2023 £475 was donated to Mountain Rescue search dogs. £475 donated to Chinley Buxworth and Brownside Association
A Location Map of where to find the Bugsworth War memorial Club can be found by Clicking:- HERE
Current records: m:19.26 Andy Wilton, 1996; f: 24.53 Olivia Bush, 2011.
Further Information / Organiser: Brian Holland
To Contact the Eccles Pike Race Director: HERE
2023 Race Results can be found here:-
Previous Race Results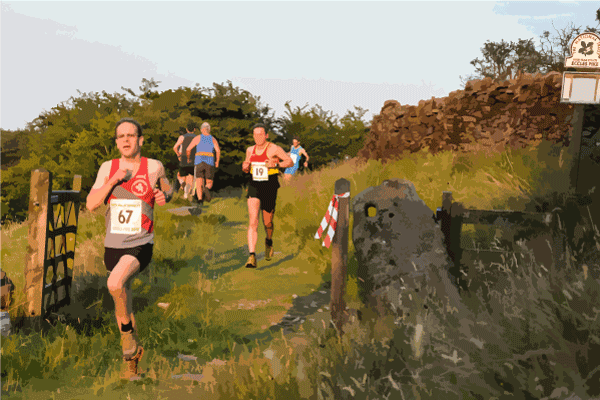 For a Map of the Course: HERE
GPX File file of he course is:- HERE
For the course profile: HERE
Flikr PHOTO PAGE Images taken by us and others, Feel free to add any more to this group: HERE